Rapid changes are occurring in technology every year new technology is invented which makes past inventions outdated. Organizations are engaged in tight competition. They have to continuously evaluate new business trends and adjust. Outsourcing offshore might be a good strategy for staying in front. The expansion of global IT outsourcing depends on software outsourcing. According to Statista, there is a rapid increase in the adoption of IT software outsourcing globally, its market is increasing at a CAGR of 8.26% and might reach a gross of $587.3 billion by 2027.
Businesses can boost their company's overall productivity with the help of IT software outsourcing along with utilizing the free infrastructures of organization, economic as well as human-resource to create new strategies. Businesses can focus on business goals that need greater focus by outsourcing.
Here is a comprehensive guide for providing knowledge about software outsourcing, its benefits that can scale your business, and the future of software outsourcing to understand its demand and importance. Let us begin with the definitions.
What is Outsourcing?
When a company hires third parties to carry out tasks that were previously done by its employees, this is known as outsourcing. It is a way for businesses to concentrate on their core activities, outsourcing is frequently done. It is also used to reduce labor expenses. Although privacy has recently been a point of argument for outsourcing employees, it also affects remote workers as well.
What is Software Outsourcing?
Outsourcing software development entails using an outside service provider to manage projects. The services might include handling business operations and creating & maintaining software for the enterprise itself or the clients.
Software outsourcing is growing in popularity among companies that outsource their development projects because of the benefits it offers including affordable development costs, and the simple accessibility to hire software developers from a big pool of IT talent across the world.
Hence, for software development companies who want to collaborate with the best developers on the planet and achieve a competitive advantage, Software outsourcing is the ideal choice. You can hire dedicated developers today for your as well as your client's project across the globe.
Scaling Your Business with Software Development Outsourcing
History of Software Development Outsource
Software outsourcing is not new to the business world, it has been practiced since the 1980s. It was introduced first in 1989 as a business corporation model which has now turned into a reputed business practice employed by thousands of companies across the globe. The IT software outsourcing in the current state is completely different and transformed compared to the initial one introduced two decades ago. Since 1989, Software development outsourcing has gone through three crucial stages till now.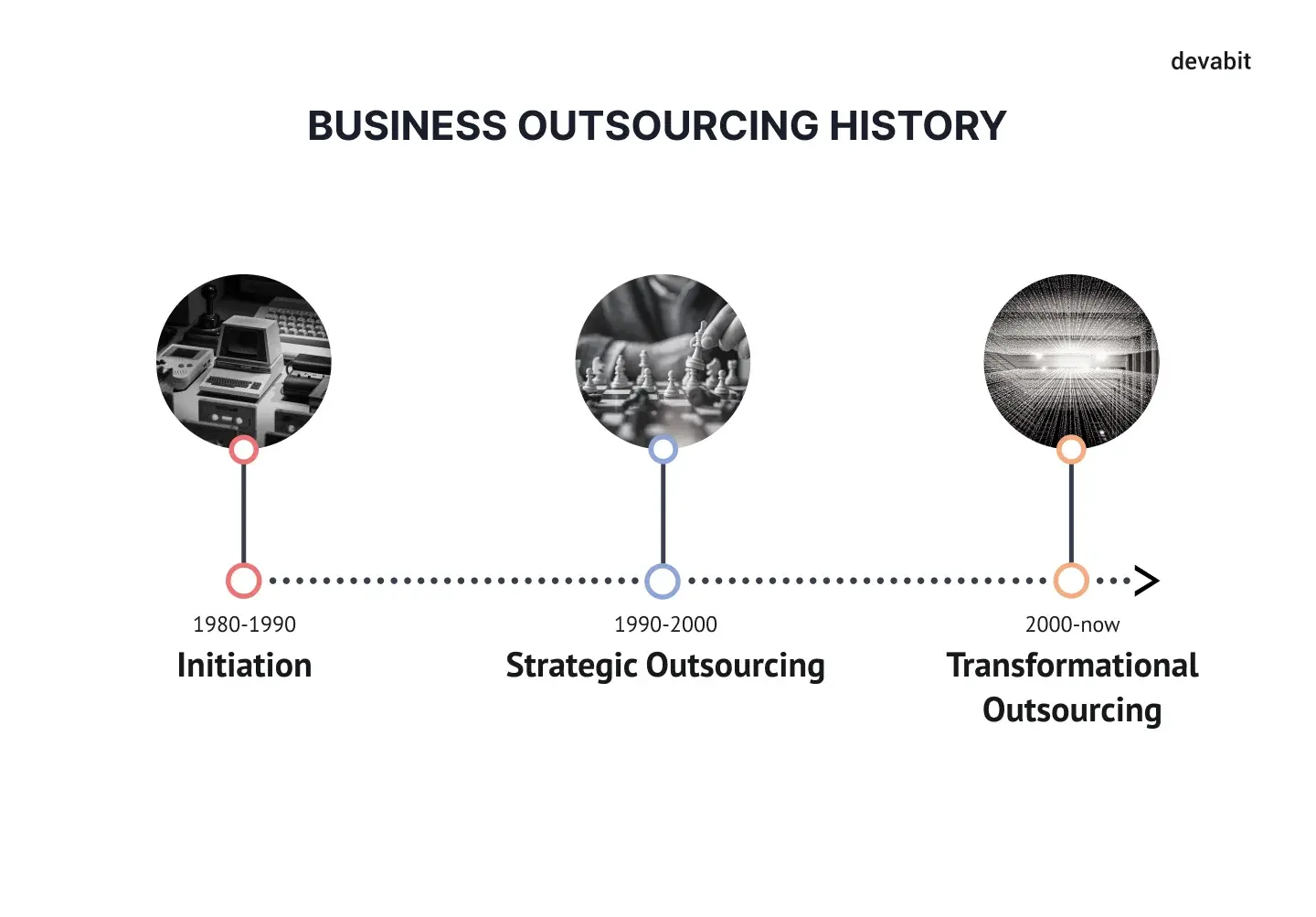 Benefits of IT Software Outsourcing
Cost-effective:
All aspects of a business are handled privately by companies, thus these costs are generally passed on to the consumer. According to 57% of CEOs, traditional outsourcing is primarily motivated by cost savings. Therefore, businesses can reduce a few of these costs by working with an IT software outsourcing company, giving them a price benefit compared to competitors. It is more affordable to outsource the project to a qualified IT outsourcer than to hire app developers to support the IT department.
Agile product quality:
Better quality specifies how perfectly the software works and the better quality results in satisfied customers. Nowadays, even a small bug can create big issues as millions of people are using computer systems and software. The majority of software development outsourcing firms provide clients with the entire software development lifecycle, including both automated and manual testing. You can stay assured that the software solutions they provide are of the highest quality as they employ tried-and-true development techniques and access to their knowledgeable developers is also offered by some reputed firms.
Flexibility and scalability:
Businesses that potentially need adaptability must have the capacity to scale either up or down. By scaling, you may produce higher-quality goods and services and develop more powerful connections with your customers. Every task that you may outsource is handled by your offshore service provider. It also enables more adaptable workplaces. Hence, software outsourcing offers complete flexibility and scalability.
Global talents:
Businesses can produce complicated as well as attractive software solutions that satisfy the technological needs of clients by outsourcing since it gives them access to specialized talents and specific knowledge that might not be available locally. One can hire a software development company that provides outsourcing from any corner of the world at a preferred time and cost—a wide range of global talent along with a customized price range. You can compare the costs of different cities or countries to get better at a cost-effective range.
Important Questions to Ask App Development Agency for Startup
Quick delivery:
The time it takes to market for new features or products can be quickened up by outsourcing the development of the software. Quick development approaches and effective business practices are frequently used by outsourcing organizations, allowing for speedy software development phases and delivery. This makes it possible for companies to stay one step ahead of the competition and quickly exploit opportunities in the market.
Focus on core business:
By collaborating with a provider, businesses may concentrate on their primary objectives. Splitting your attention between various tasks that are important to business processes but beyond their main business goals can lead to distraction. The solution to this issue is outsourcing, which allows business executives to concentrate on their core business.
Trending solutions:
The utilization of the most cutting-edge technological stack in contemporary IT projects is crucial for the customer. This is due to the requirement for finding professionals with in-depth knowledge of software development. The technology stack undergoes important changes every year, and many developers lack the necessary IT expertise. As a result, outsourcing is necessary to utilize the newest technological stacks.
Preferred time-zone:
One of the multiple benefits of outsourcing software is the ability to collaborate with experts in other time zones. There are various forms of outsourcing, including offshore and nearshore software outsourcing. No matter where in the world their clients are, software outsourcing businesses may offer them almost any time overlap. Customers can build and modify the appropriate overlap system with the assistance of our hired staff. This implies that you could be able to offer them practically full coverage around the clock.
Optimized human resources:
Dedicated teams that are ready to begin working on projects right away can only be offered by reputable and qualified software development outsourcing businesses, along with flexible solutions. Outsourcing guarantees a smooth operation and the successful completion of your software development project, you might delay the work due to any illness, weekends and holidays, or unexpected events but developers will complete it from their side. Outsourcing optimizes the use of resources by allowing trained employees to focus on the most crucial tasks.
The Future of Software Outsourcing
As we move towards 2024 and beyond, the future of software outsourcing seems bright in the constantly changing technological world. Outsourcing of software, particularly IT software outsourcing, continues to be an essential sector that promotes cooperation and creativity internationally.
The rising demand for specialized skills and experience is one of the major reasons influencing how software outsourcing will impact businesses in the future. Businesses are turning to software outsourcing companies that can provide specific domain expertise and skills to remain competitive and satisfy changing demands of clients. This change has led to an increase in collaborations with specialized software development companies, giving businesses access to a wide range of talent and a competitive edge.
What Is Application Software
Likewise, another factor influencing the future of software outsourcing is the rising rate of cybersecurity and emphasis on safety. Organizations are prioritizing strong safety features in their computer systems as cyber-attacks increase. To guarantee the reliability and privacy of client data, software outsourcing businesses are integrating strict security policies and standards into their development operations.
The ecosystem of software outsourcing is expanding across the world. Countries like the United States and India offer competitive software maintenance services along with a skilled workforce, affordable prices, preferred time zones as well as expert business strategies to develop and maintain your software from across the globe. You can also hire mobile app developers, iOs, or Android developers along with software for creating an app for your businesses.
Conclusion
The future of software outsourcing holds the potential to have a profound impact on businesses and enterprises. The world of technology is emerging at a high rate and organizations can utilize the power of global talent to stay competitive in an evolving ecosystem of technology. Businesses can focus on their core competencies by handing over some tasks to skilled third parties and taking advantage of software outsourcing like savings costs, flexibility, a broad spectrum of talent, data security as well as innovations.
Many companies are now providing software outsourcing services as it is trending these days. You can hire software developers from any mobile app development company to revolutionize the way of executing your software development project. We at Nevina Infotech provide you with the best outsourcing services along with dedicated developers that will serve you with their specialized expertise in software development at a cost-effective rate. Join us now to leverage the benefit of working with the finest software maintenance company in India.
Frequently Asked Questions
Is it affordable to outsource software development?
Indeed, outsourcing software development is often more affordable than recruiting in-house engineers because it saves companies cost on salaries, benefits, and other related expenses.
What should you notice carefully while outsourcing software development?
To examine the company from where you are outsourcing or whether the team of developers you are hiring is right or not you should remember some points like the source of recommendation is trustworthy.
Does outsourcing increase a company's effectiveness?
You can access resources, technology, and expertise through planned outsourcing. By fulfilling essential key performance indicators like effectiveness, quality, and customer satisfaction, your hired service provider can help you operate better.
Read Also:-